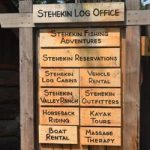 Description
Stehekin Reservations is a one stop shop for all things Stehekin. Visit Nick at the Log Office located north of the boat landing just before Purple Point Campground (a five minute walk) Nick can help you make bookings for:
Stehekin Valley Ranch
Stehekin Log Cabins
Tent to Tent Campsites
Hike and Like it Trips (Stehekin Outfitters)
Guided Horseback Riding Tours and Lessons
Guided Fishing Trips (Stehekin Fishing Adventures)
Guided Kayak Trips
Dinner reservations Stehekin Valley Ranch
Massage Therapy @ Stehekin Valley Ranch
If people are looking to get around the valley on their own schedule, we have three Polaris Ranger Crews available for rent. For folks who want to get out on the water on their own, they can rent Craig Cat electric boats from 2 Miles N. Catamaran Rentals. (It is highly recommended that people reserve activities in advance). I am also available to answer any and all questions people might have about Stehekin.
CONTACT NICK @ 1-800-536-0745, or 509 682 7742.
OR
The e-mail address is: stehekinreservations@gmail.com