Stehekin Community: Over 140 Years of Mountain Heritage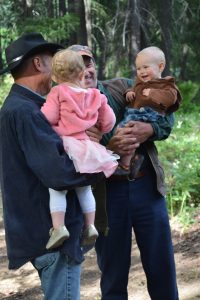 "A community is the mental and spiritual condition of knowing that the place is shared, and that the people who share the place define and limit the possibilities of each other's lives. It is the knowledge that people have of each other, their concern for each other, their trust in each other, the freedom with which they come and go among themselves."
~For personal insight into the heart of the Stehekin Community, please visit our blog~
The organization "Stehekin Heritage" was born out of concern for the future of the Stehekin Community. Vital aspects of community life are being challenged: private land ownership,the operation of private businesses, the historical significance of the private sector, cultural heritage, and the recognition that the community of Stehekin is of value to the visiting public.
Stehekin lies at the head of Lake Chelan in the heart of the North Cascades Mountains. Approximately 80 year- round residents live this remote lifestyle and many choose to stay due to their deep connection to the valley.  Many share a family heritage and history dating back to the first settling of the area by those involved in homesteading, mining, agriculture and tourist services.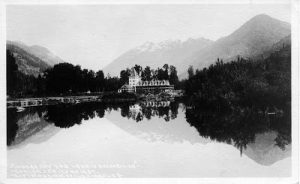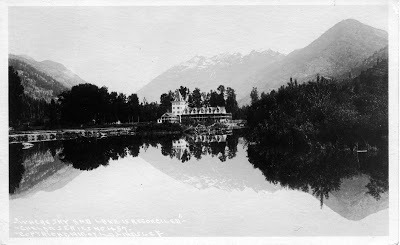 The remote and beautiful wilderness that makes up Stehekin is captivating to all who experience it. However, making a home here requires tenacity and a particular mindset.  Living in Stehekin is a choice, as it always has been, of facing challenging circumstances of remoteness and survival. An independent, self reliant spirit is a common thread of people settling here through the eras of mining, homesteading and visitor service provision.
Stehekin residents know their neighbors. Independence is accompanied by awareness of the need for each other during challenges of  deep snow, flooding, and fire danger. Homesteader's stories of Stehekin often include mention of the assistance offered by a neighbor. Miners, isolated by deep snow at the head of the Stehekin valley, relied on each other to survive. The people of this community worked shoulder to shoulder fighting fires, or filling sandbags when the river was threatening. The need to work together still exists today as our community faces many challenges.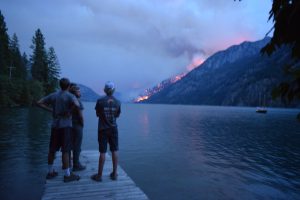 We share the awesome view and power of nature. We share joyful times at our annual spring Trillium Festival, summer square dancing and an annual party for children in the autumn.  We celebrate eighth grade graduations with special handmade quilts and thoughtful comments for the young graduate that we have known well since birth. We gather for music, game nights, church, and helping someone in need. We mourn the loss of friends and family members, together.
The face of the Stehekin Community is ever changing, but these elements remain: persistence,  independence, mountain lifestyle, family, respect for traditions and a closeness of community (in spite of our differences!), and most of all, a deep love of the Stehekin valley.
"What's it like to live here?" is the most common question asked by visitors. Stehekin lifestyle and community are intriguing to visitors who enjoy a spirit of the area, not commonly found. The never ending awe of North Cascades beauty is complimented by traditions such as horse packing, heating with wood, building with logs, handcrafts of leather and wood, gardening, canning, making do and a close community, reminiscent of eras gone by. The Stehekin community welcomes many returning visitors year after year that become our friends, sharing in our love of place.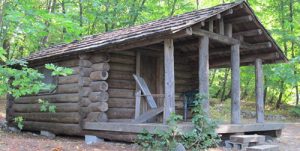 Many writings have been inspired by this unforgettable area where people meet one on one with wilderness. Stehekin serves as a place to ponder the forces of nature, feel the influence of raw elements and live within humbling surroundings. Local authors never fail to mention the community as a living, interactive part of the landscape. Travel magazines and articles consistently feature the combination of local hosts and outstanding scenery.
Historically, Stehekin residents have served the visitor by creating lodging and dining opportunities that reflect the beauty of the area, enhancing the atmosphere and surroundings. Rustic yet beautiful structures that incorporate local materials and the serving of fine family meals compliment the mountain experience of wonder and relaxation.
Recreation opportunities, such as bicycling, guided fishing tours, kayaking and horse back riding are provided by creative private individuals, who interact personally with authentic stories that interest visitors. Pack trips are still operating, taking people into the heart of the high country. A private barge service facilitates the operation of all businesses. A beautiful organic garden is a favorite, welcoming  stop for all.
Even though our numbers are few, the sense of community is strong in Stehekin and  extends to many who live beyond our valley walls. Many share love and respect for the community and atmosphere of  Stehekin.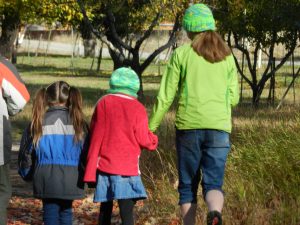 However, our voice is small in the face of larger causes such as wilderness management, which aims to minimize human impact and enlarge holdings of land.  The future appears to hold serious challenges for Stehekin if we continue to be unrecognized as a justified, worthy presence in the Stehekin Valley.
Private lands are crucial to the Stehekin community. Private land is the basis of our families, businesses, creativity and culture.
Stehekin private lands were set aside in the enabling legislation, when the Lake Chelan Recreation Area was formed. The community was recognized as a gateway to the mountains that would provide services to the visitor.  Pilots, fishermen, hunters and valley in-holders, senators and congressmen, all fought to keep private land in private hands.
The federal government, quietly and insidiously, continues to acquire private lands in the Stehekin valley, in spite of this acquisition being cited as abuse of original legislation. Acquisition directly affects our community. Each piece of land represents an opportunity for a family, a business, a positive life experience for children and strength added to our community, which also adds to visitor quality experience.
The Stehekin Community is one of a kind. If you wish to help it survive into the future, please join us in facing these issues and helping us be heard.
By joining Stehekin Heritage, you join the Stehekin Community in standing for a place we all love.