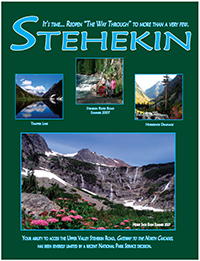 Stehekin Heritage believes visitors of all ages and physical ability should have the opportunity to access the Upper Stehekin Valley and to be inspired by the grandeur of this magnificent setting. In the challenging era we live, the opportunity to refresh the body and inspire the soul is essential. Reopening the Upper Valley Road is essential to achieve this goal.
The purpose for publishing "It's time…Reopen the Way Through to More Than a Very Few" in 2008 was to advocate for reopening the Upper Valley Road as an essential access corridor into the North Cascades.
Table of Contents Version
To See the FULL version Click Here
The Upper Valley Road – and early trip up the road with David Brower of the Sierra Club.
Reasons supporting the reopening of the road.
Historical Overview of the Road
Visitor Access statistics since closing the road.
Public Access – The Upper Valley Road and the Law
Washington State Senator Linda Evans Parlette writes US Senator Maria Cantwell.
Map showing affected campgrounds and trails
Stehekin Community members supporting the opening of the road.
Public Safety issues supporting the opening of the road.
Ron Judd's Seattle Times editorial – "Wilderness Fans Lobby For …A Road."
Terry Lavender responds to an editorial published in the Wild Cascades.
Tracy Warner's editorial for the Wenatchee World, "Don't Call It a National Park."
Thanks and elected officials addresses
A Poem – "Drinking the Mountain" by Jeff Bilbro