Stehekin Valley Ranch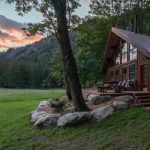 Description:
Stehekin Valley Ranch has two types of cabins to choose from. If you're looking for more of a "glamping" experience, our Tent Cabins are just the thing. You get the feel of camping but with nice beds to sleep in! For those looking for a less "rustic" stay, our Ranch Cabins  are fully enclosed with electricity.
Whichever you choose, kick back and know that our friendly staff will have all your meals provided for you and transportation throughout the Stehekin Valley during your stay.