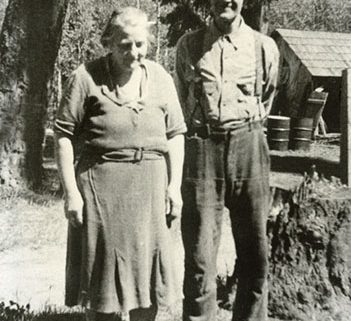 Mamie and Hugh Courtney at the homestead, 1942
"….That winter, Hugh and Mamie put their name in for the old, abandoned William McComb homestead about a mile and a half up the road from the Lesh place. It was accepted, and on April 19, 1918 with Mamie seven months pregnant with my mother June, they moved up to the homestead."
(From "At Home In The Woods" by Mike Barnhart, pg. 21)
 Hugh and Mamie's rustic beginnings of life in Stehekin surrounded by tall Douglas firs, beside the rushing Stehekin River with a startling rise of McGregor Mountain looming over them, is a story to be revered. Their dream of making Stehekin a home has reached into the lives of many of their descendants, a century later. Each ax swing, shovel of dirt, and snowy winter endured was of benefit to more than their little family of six. Their legacy of hard, back breaking work to find a way to stay and survive on their mountain homestead is a gift that has enabled many generations to live on, in an outstanding homeland.
April 20, 2018 Courtney Homestead 100 year anniversary (Photo~Nancy Barnhart)
One hundred years after their move into a dirt floored cabin, Mamie and Hugh's descendants gather on the grounds of the former homestead. The talk is of where the garden was, how water was channeled for produce, animals and home, from a nearby mountainside creek. How the water tower was built, where the barn was located, and the remarkable change of size of the original land due to the continual carving away by the river. The original log cabin has been moved to avoid being washed away.
Mike Barnhart, son of June Barnhart (Courtney) guides the families along the road, pointing to places that were once cleared and occupied by wooden buildings that couldn't last the century. Rock hearths still stand as monuments to the lifestyle of chopping wood for survival heat,  daffodils still pop up near the old site, and a few relic vehicles grace the woods. The are long covered with leaves and ferns, meeting a destiny of "can't fix it." Laughter is shared about "granddad's stories." Memories of climbing the water tower as kids emerge. Much circling of the old log cabin, and talk of the cellar, and the cooling house for milk storage takes place. A rugged lifestyle that required attention every day unfolds and is given honor.
Cousins, second and third and fourth cousins, clear down to a 6th generation baby meet and look at the display Mike has carefully posted of diary entries, a map of the old homestead, and pictures of this very end of Company Creek road destination. Mike and Nancy live on a portion of the original homestead and are graciously making this day a family celebration. Some have traveled from San Antonio, Texas. Some from Arkansas.
Local Courtney families that are still living this dream of Stehekin life meet and share with cousins from far away about what it is like to live here.  Little ones play in the setting, oblivious to the historical import of the day, doing what comes natural..running, kicking a ball, and laughing. They enjoy being outside with a unique freedom and innocence that all eras have shared in this special place.   Stehekin has grown six generations of the Courtney family, as well as one more, reaching back to Moore point, with Robert and Mary Moore, parents of Mamie.
Sixth generation!
Present generations provide many services to the valley such as
Stehekin Outfitters
,
the Stehekin Pastry Company,
Stehekin Valley Ranch
,
Barnhart Photography
, Rental Cabins, Mountain Barge Service, each with the heart of the original determination of Mamie and Hugh to make Stehekin their home. Due to their life long efforts, there are now ten families able to call Stehekin their home. Other family  members own property here, and visit whenever possible. Family ties to this homestead, and Stehekin, run deep and are not forgotten.
The hardship of making a way in Stehekin has obviously changed. There is something familiar, however, in Mamie and Hugh's family stories of early life of making it through, making it work, and doing it with your own abilities as best you can, a spirit that has been passed down to the present generations. And, a spirit of hope and dreams still endures, just as it did originally when the valley was first being settled, as is evident in thirteen year old Dorothy Courtney's letter to her brother from 100 years ago, describing their fist day in their "new" home:
"…We moved yesterday on your birthday and we had a great time. Laurence and I went down to get Mr. Inlow and caught him pretty nearly down to his place going to set bear traps way up on the mountain but he helped us anyway and we got one load up in the morning and then we had to take another load right after dinner. We took that load and the next about 5:30 in the evening. Papa had to go down after another load but Mr. and Mrs. Caldwell and John Merritt came up to drive the team back. It was about twelve o clock when we got to bed; we walked up so that made us tireder than ever. Mr. Inlow put up the stove and beds and we had to shovel the dirt out it was so deep. We couldn't bring the chickens so we had to leave them until tonight but I went and let them out we couldn't catch all of them so Elmer Pershall and his wife get four eggs. We get four eggs every day so we have eggs for breakfast every morning and that is a great help. There are lots of mosquitoes up here. I am nearly eaten up with them.
We think our team will be up today so that we can start farming in a little while and can get things started. Mr. Washburn gave me some flower seeds and I already have some and Mr. Inlow is going to give me some pansies they are in bloom. 
Well I must close,
Your very loving sister, Dorothy Courtney"
The original Courtney homestead is now partitioned into family tracts, and has also been sold to others. Life is still carried on by these tall firs, this rushing river, under unforgettable North Cascades peaks. A legacy of family, hardwork, love of place, good will and wonderful history live on.
(For a genuine and more in depth account of life on the Courtney homestead, read:
by
Mike Barnhart  l.c.
For more Stehekin information
stories and news,
https://stehekinheritage.com/wp-content/uploads/2017/10/Hugh-and-Mamie-e1508004286922.jpg
500
351
liz
https://stehekinheritage.com/wp-content/uploads/2017/09/logo-super-large.png
liz
2018-05-09 20:23:25
2019-01-31 14:19:06
100 Years of Stehekin Heritage!