North Cascades Lodge at Stehekin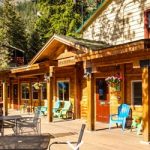 Description:
Our 28-room rustic lodge on the shore of the 50-mile-long Lake Chelan offers quiet and comfortable accommodations with rooms varying in size and layouts. Rooms with kitchens are also available.
During your stay, the Stehekin Lodge Restaurant serves delicious and hearty meals for breakfast, lunch, and dinner with gorgeous view of Lake Chelan. Our dining room is open from May 12 through October 15.